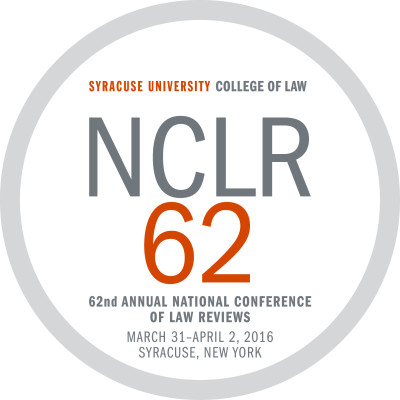 NCLR 2016
Will you be at the 2016 National Conference of Law Reviews (NCLR)? From March 31 to April 2, Anna, our customer success lead, and I are going to be in Syracuse for this year's conference. NCLR offers law reviews and those working with them a fantastic opportunity to learn about best practices and trends in the law review publishing space. There are a few things we're especially looking forward to about NCLR 2016:
1. Presenting
Scholastica works with (literally) hundreds of editors from all types of law reviews, and we know there are some questions that are hard to answer no matter what your publication's subject area or rank. How do I tell an author that we aren't going to publish their piece? What's the best way to coordinate an articles team to find top-quality submissions fast? How do we work with authors on revisions? These are questions Anna and I have heard from all sorts of law reviews — and at our session, we're going to present some of the best practices we've seen.
2. Learning
Everything we know about law reviews and article selection here at Scholastica, and every new feature we roll out, is because we talk to editors who are in the trenches. We're looking forward to being able to ask editors questions about things we don't know at this year's conference so we can keep learning how to best serve the law review community. This year I'm interested in learning more about how law reviews organize symposiums, as well as how boards decide on and publish special topic issues. Last year many of the editors I spoke to were interested in transitioning their law reviews to be paperless. It'll be fun to reconnect and get an update on the progress of those goals!
3. Meeting new people
One of the best parts of NCLR is going to be meeting the people we're already working with! Anna and I work with editors via email and phone, so it's going to be great to meet and catch up in person! We're also excited to meet editors from boards we don't work with yet. If you're reading this and you're going to NCLR, be sure to swing by our table or meet us after our breakout session to say hi!
Save your spot at this year's conference
If you haven't yet registered for NCLR 2016, you should! It's definitely something that will leave you with new ideas for your own law review. You can visit the conference website to learn more.
If you're going to the conference, let Elli or Anna know! We'd love to find some time over the conference weekend to catch up with you.