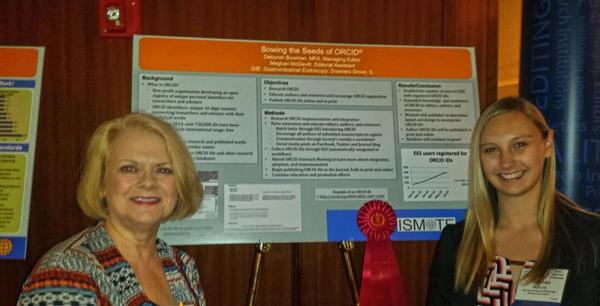 As academic journals move to online publishing, and authors and readers continue to seek interactive ways to find and share research on the web, digital promotion and digital publishing innovations are becoming more important than ever before.
"I think people are starting to expect it from journals," said Deborah Bowman, managing editor at Gastrointestinal Endoscopy (GIE).
Bowman, who began working as managing editor at GIE nine years ago, helped develop a promotion and video publishing strategy for the journal and now spearheads both along with her editorial assistant, Meghan McDevitt. While it's no easy task to juggle promotion and day-to-day editorial duties at the same time, Bowman said she feels doing so is an important way for editors to keep their journals on the minds of readers and authors.
"The things we've done at GIE, like social media, have helped us to appeal to younger doctors, which is important," said Bowman. "We're looking to interest the readers and to help the authors create better articles by sharing what is out there and what is being published."
Additionally, Bowman said promotion is becoming a part of efforts to increase journal impact. "We hope, if we promote articles, that maybe they'll be on people's minds when they're writing their own articles, and maybe they'll cite them," she said.
I spoke with Deborah Bowman to learn about some of the digital publishing and promotion opportunities GIE is embracing, and what suggestions she has for journals looking to up their promotional efforts. Here are some of the tips she shared:
Tips for Journal Promotion
Author blog posts:
Among top sources for journal promotion, Bowman suggested blogging as a great way for journals to draw awareness to new articles and offer best practices advice to authors and reviewers at the same time.
_What editor has the time to write blog posts every week or even every month, though?_–you ask.
At GIE, Bowman and her editorial assistant are helping authors get involved in blogging to ensure GIE's blog, Endoscopedia, has a constant stream of new and relevant content to share.
"It's amazing how much the authors really want to do this," said Bowman. "For the blog we invite authors, whenever their article is accepted, to write a post about it - saying something different about the article like what made them want to do the study along with a picture of themselves, so that the blog stays a little more informal in approach."
GIE's blog serves as a place for authors to offer readers additional insights about their published articles.
Author interviews:
In addition to publishing blog posts written by authors, Bowman said GIE records author interview videos to share with readers. Every year GIE gets a crew to film their editors interviewing authors about their research during the annual American Society for Gastrointestinal Endoscopy (ASGE) meeting.
"We schedule them every 15 or 20 minutes throughout the day, and end up with approximately 20 interviews that we can post to YouTube and link to from all of our social media sites individually throughout the year," said Bowman.
Beyond the conference, Bowman said GIE also invites authors of accepted articles to submit their own video interviews to the blog, which can either be traditional Q&A interviews with a moderator or self-recorded videos of themselves discussing their work.
Social Media
Bowman also suggested social media as a way for journals to attract a following among authors and readers and to cross-promote newly published journal articles and blog posts.
"We post on Facebook every day," said Bowman. "We'll post an article link, a blog post, and then an interview to keep things diversified. Then for the Twitter account we usually shorten everything that we do on Facebook."
Rather than having to come up with new social media posts every day, Bowman said she makes a schedule for the month in an Excel document. She suggested pre-planning social media postings as a way for editors to make managing journal social accounts less of a burden.
Tips for Innovative Digital Publishing:
Article videos:
In addition to seeking author interview videos, at the suggestion of a past editor in chief, Bowman said GIE began inviting authors to send short research videos as part of their article submissions in 2006. Authors embraced the video option, and Bowman said that today many send videos of the medical procedures they describe in articles to offer readers a visual aid.
Due to the success of video additions to written articles, GIE also recently initiated a new article type called VideoGIE. For VideoGIE submissions, authors send videos relating to endoscopy used in the diagnosis and management of digestive diseases with a brief one or two paragraph video abstract.
"That's been tremendously popular and we get a lot of submissions through that," said Bowman.
In terms of the future of video article publishing, Bowman said she thinks it will likely become a new norm. "I think more and more people are doing it. It's logical that doctors want to see what articles are talking about, it helps the information click for them" she said.
QR Codes:
In light of GIE's use of video in journal publishing, Bowman said she and her assistant editor became creative in devising a way to bring those videos into the print-reading experience. They came up with QR codes as a solution.
"When an article has an author interview or a video connected to it we put a QR code in the print journal, so that anybody reading the journal can just scan the code and bring up the video right away," she explained.
Bowman said while print is gradually becoming a less popular reading option, for the time being QR codes in print issues have proven very useful for the journal. She and her editorial assistant gave a presentation on incorporating QR codes into print publishing at the 2013 International Society of Managing and Technical Editors (ISMTE) meeting.
Closing Advice
Regardless of what promotional outlets journals choose to focus on, Bowman said that overall she suggests journals take their promotional efforts one at a time.
"I would advise that they don't try to do everything at once. Start with something like Facebook and then once you're comfortable add something else and then something else."
With time Bowman said GIE has been able to gradually add more promotional efforts to their plate and that she sees other journals beginning to do the same.
"We are ahead of the curve in what we offer, but others are following," she said. "We feel the need to keep pushing forward to stay ahead of the curve and we know that other journals will as well. It's definitely important for journals today."